An Introduction To Some Of Our New Friends
We are pleased to introduce you to several terrific barges, and some new friends, newly added to our roster of barge cruises.
8-passenger APRES TOUT
Cruise the Cote d'Or wine region of Burgundy!
Having formerly managed an entire fleet of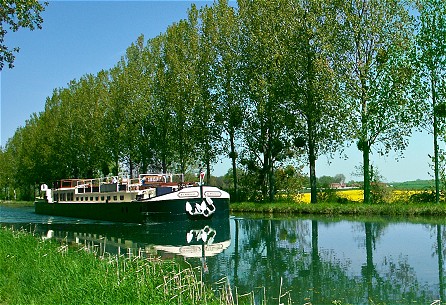 deluxe and ultra deluxe barges, the new owners of the Apres Tout are experts in the world of barging. The Apres Tout is a classic French barge which has been renovated to offer the most luxurious accommodation for six passengers, for a glorious week of cruising in the southern Burgundy area. Cruising between St Jean de Losne and Pont d'Ouche passengers enjoy visits to Beaune, the wine capital of Burgundy, Dijon, the Clos de Vougeot, and Chateauneuf en Auxois. Apres Tout offers a cruise to delight the wine connossieur and the history buff, as well as those with an appreciation for fine food and relaxation. The Apres Tout will also escort you to the famed Michelin starred restaurant, the Abbaye de la Bussiere, for one of your cruise's evening meals, included in the cruise fare. Relax with a glass of wine in the hot tub on deck as you cruise through the beautiful Cote d'Or wine region, or bike ahead on the towpath along the lovely Canal de Bourgogne.
For more information, see:
https://www.bargesinfrance.com/aprestout.htm
---
12-passenger PANACHE
Tulip Cruises in Holland ... then on to Alsace!
Formerly known as the Marjorie II,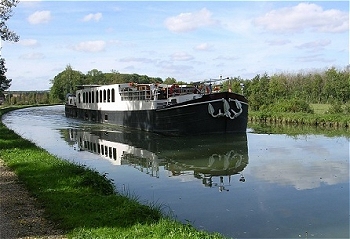 the Panache made its new debut in Holland in the 2012 tulip season, and is cruising in Holland again in 2013. Cruising along the Haarlem-Leiden Canal and the Amstel River, the deluxe barge Panache takes in the splendor of tulip season in Holland from the 1st of April through the 3rd week of May, before moving to France to cruise the rest of the season in the Alsace region. While in Alsace, passengers are treated to a fabulous cruise between Strasbourg and Mittersheim, on the Canal de la Marne au Rhin and the beautiful Canal des Houillères de la Sarre, a canal threaded through a series of large tranquil lakes and quiet forests. Enjoy some delicious Riesling wines on a tour of a vineyard in the Vosges mountains, and traverse the stunning inclined plane of Arzviller boat lift, a true marvel of engineering.
For more information see:
https://www.bargesinfrance.com/panache.htm